ZANTE TV BED MATTRESS EXTRA £1000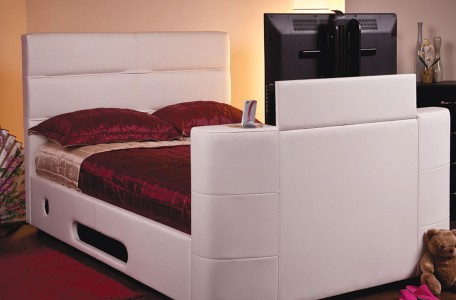 Zante
• Leather-look TV bed with sprung slatted base
• Built-in surround sound system and iPhone/iPod docking station with USB & auxiliary ports
• TV can be operated from side rail control or wireless remote
• Built-in drawer for equipment such as DVD player; drawer can be removed to fit either side.
• TV (buyer to purchase separately) can be up to 32″ and 8cm deep
• Headboard: 120cm, footend: 84cm
Colour Options: Black, Brown, White
NB – specification changed – iPod docking station is now in black & oblong shape rather than silver circle shown in images. New image to be updated soon.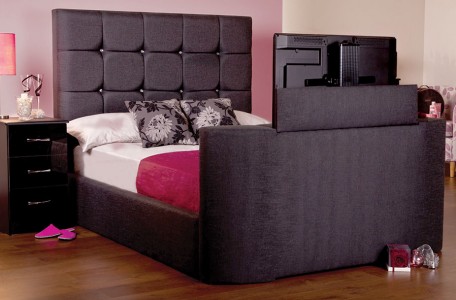 Ella
• A TV-ready bed featuring a modern, plush fabric frame with diamante-studded headboard.
• Sprung slatted or adjustable mattress with three options; memory foam, pocket spring or supersoft bultex
• The flatscreen TV (buyer to purchase separately) is stored within the frame and rises at the touch of a button.
• Remote control to operate the bed's TV mechanism included. TV mechanism must be mains connected to function
• The bed is designed to take a TV up to 32″ with 8cm maximum depth.
• Please Note our 150cm and 180cm adjustable beds come as two separate single units, with individual controls, to fit within the frame
• Headboard: 139cm, footend: 73cm
Fabric Options: Choose from wide range of sensational fabric.
Shown in Executive Midnight